Computer Repair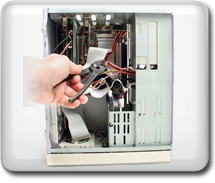 The Computer Guys USA will take care of all of your computer needs – without all the hassle.
In fact, you don't even have to leave your home to get great service. We specialize in both remote and onsite repair methods, meaning that we can solve your computer issues in the most convenient way imaginable.
Remote Services – We can connect to your computer via the Internet to diagnose and treat many common computer issues. You won't need to disconnect your computer – just sit back and watch the magic happen.
Onsite Services – Our friendly and experienced technicians will come to your home or business to get your computer up and running better than it ever has. We'll perform a comprehensive analysis of your system before you decide what steps you'd like us to take.
In-Store Services – You may find it more convenient to drop your computer off at one of our local stores. We'll take care of any issues and have it ready for pickup in no time.
And when we're done fixing your computer, we won't leave you high and dry. We'll take the time to set up your system, transfer your data, set up printers and other peripherals, make sure your Internet and email are working, and leave you with a fully-operational system.
Our comprehensive repair service includes the following:
Removal of spyware, adware, viruses, worms, and other potential threats
Clean-up of your registry to ensure faster boot times
De-fragmentation of hard drives for optimal performance
Delete excess temporary files
Physically clean dust buildup
Performance test of all hardware devices (CD-ROM, sound, video, etc)
Update your operating system with latest patches and security modifications
Update anti-virus, anti-spyware, firewall, and other security programs
Personal training on how to maintain your system
Personal training on how to avoid future computer issues and infection
Contact us today to schedule our comprehensive repair services!